Information About The Special Features Of -


©
Chambers Corporation
"Fireless" Gas Ranges and Stoves
The Range That Cooks "with the gas turned
off!"
This page is always subject to improvement. Date of last revision: November 28, 2008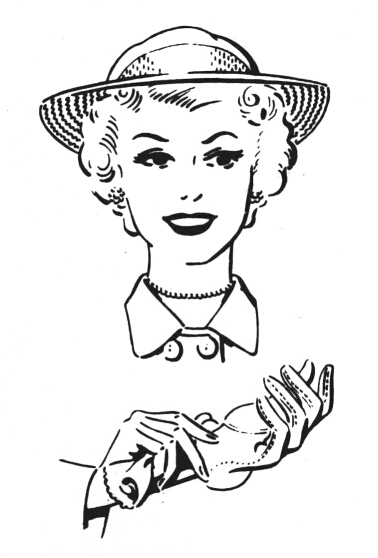 "My Chambers is the easiest range in the world to use, because I can cook as I please on it," say countless owners. Use it just like any other good cooking equipment, and, in addition, enjoy the carefree hours that only "cooking with the gas turned OFF" can give you. Its appearance is lovely, its performance superb. Skillful engineering and careful craftsmanship have produced for your pride and pleasure your CHAMBERS Range. It should serve you well for many, many years.

- from the inside cover of "The Idle Hour Cookbook", Third Edition


The

CHAMBERS

ranges have exclusive features that, even today, have not been entirely duplicated in type or quality. Here is a description of the more prominent ones, as found in a sales brochure that dates back to around 1940 -
*

RETAINED-HEAT OVEN

cooks with the gas turned off!

*

THERMOWELL

cooks three vegetables at once in only 10 minutes of gas - in retained heat.

*

COMPLETE INSULATION

of top, front, back, and sides of the CHAMBERS Oven and Thermowell.

*

IN-A-TOP BROILER AND GRIDDLE

combines smokeless, standing-height broiler with built-in griddle.

*

SIZZLING PLATTER

designed for use on your table - the CHAMBERS broiling pan.

*

SEALTIGHT OVEN DOOR HANDLE

holds oven door shut, and holds the heat inside.

*

DAISY BURNERS

give any flame from simmering to quick, full blue cone. Highly efficient.

*

INDIVIDUAL DRIP RINGS

easy to clean.

*

DISTRIBUTOR GRATES

prevent "hot spots" in cooking.

*

THUMB-LATCH SAFETY GAS HANDLES

prevent small children from turning on gas.



Here is a chart showing the exclusive features of the CHAMBERS C-series of ranges: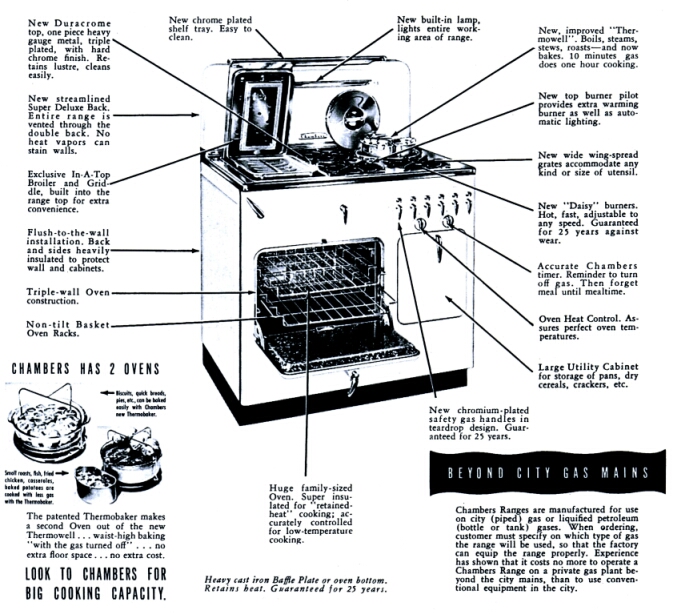 The CHAMBERS Ranges have four different types of cooking units available for you to use - the top burners, the In-A-Top Broiler and Griddle, the Oven, and the Thermowell. The entire unit weighs around 400 pounds.
THE OVEN -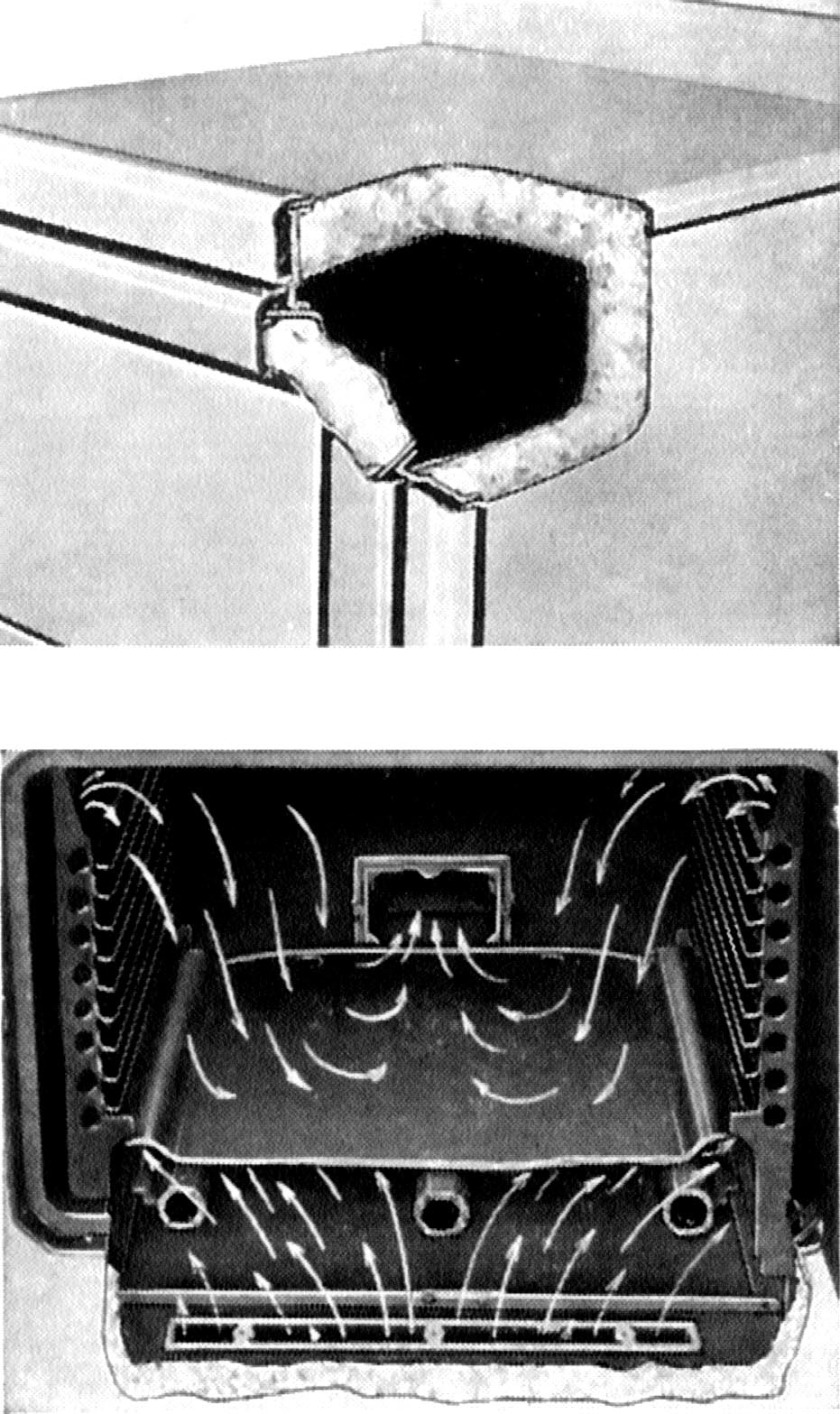 Able to handle far more food than first glance would indicate, ALL of the CHAMBERS Ranges have an oven that is entirely insulated - top, bottom, sides, and front (door) with the best grade rock wool. This insulation is encased (sealed). The oven also has a cast iron bottom (floor) called a

baffle

, which rests above the burner and distributes the heat extremely evenly - you will not find a more even cooking oven than the CHAMBERS! Now, the insulation around the oven is SO heavy and SO good that, even after 50+ years, most of them work as good as they did when they were new (unless yours got water in them somehow, the insulation should be fine).
To insulate completely, triple oven wall construction is necessary, and is an CHAMBERS exclusive. This method of construction makes it possible to change outside porcelain panels without affecting the Oven and Thermowell insulation.
The CHAMBERS Oven is ventilated by a system of controls and
dampers, a patented feature that provides for perfect circulation of FRESH AIR while the gas burns. Then, when you turn off the gas the Oven is automatically sealed up for continued cooking on retained heat. Observe the thick insulation shown in the illustration. Notice also the scientifically designed oven with its perfect heat distribution.
Because they are so well insulated, it is not necessary to burn the gas until your food is done: you turn it on (per the instructions), let it preheat for 10 minutes, put your food in (be it a roaster, casserole, pies, cakes, etc.), then continue burning the gas for the amount of minutes designated on the cooking chart found in

The Idle Hour Cookbook

(I have high-quality copies of these available
(Click Here To See Available Literature)
.
Once that time has elapsed, you turn the gas

OFF

, sealing the oven compartment entirely from the outside world (you can even put your valuables in the cold oven when you are planning to be away from home - if the house catches fire, anything in that oven will be safe - literally!). Your food continues to cook on retained heat until it is done. There is no scorching, no burning, and you use 1/3 - 1/2 less gas than standard ovens do, something that REALLY MEANS SOMETHING in today's ever-rising gas market! Not only that, but you can NOT believe how well this oven cooks until you've tried, as Chambers used to say,

"cooking with the gas turned

Off!"
Due to the fact that it is so well insulated, the CHAMBERS Oven heats quickly, evenly, and uses a minimum of gas, whether you cook on retained heat or not. You can follow standard instructions for oven temperatures when cooking at any time. To take advantage, however, of all the

Chambers Range

features, and to make your meals more delicious while saving you time, labor, fuel, and even the food itself, you will want to cook on retained heat morning, noon, and night!
The small door to the right of the oven, contrary to a popular misconception, is not a "warming oven" or "warming closet". It is what CHAMBERS called a "Service Cabinet." It has a shelf for you put pots and stuff, and provides access to service the business part of the range - the gas lines, pilot tubes, etc.,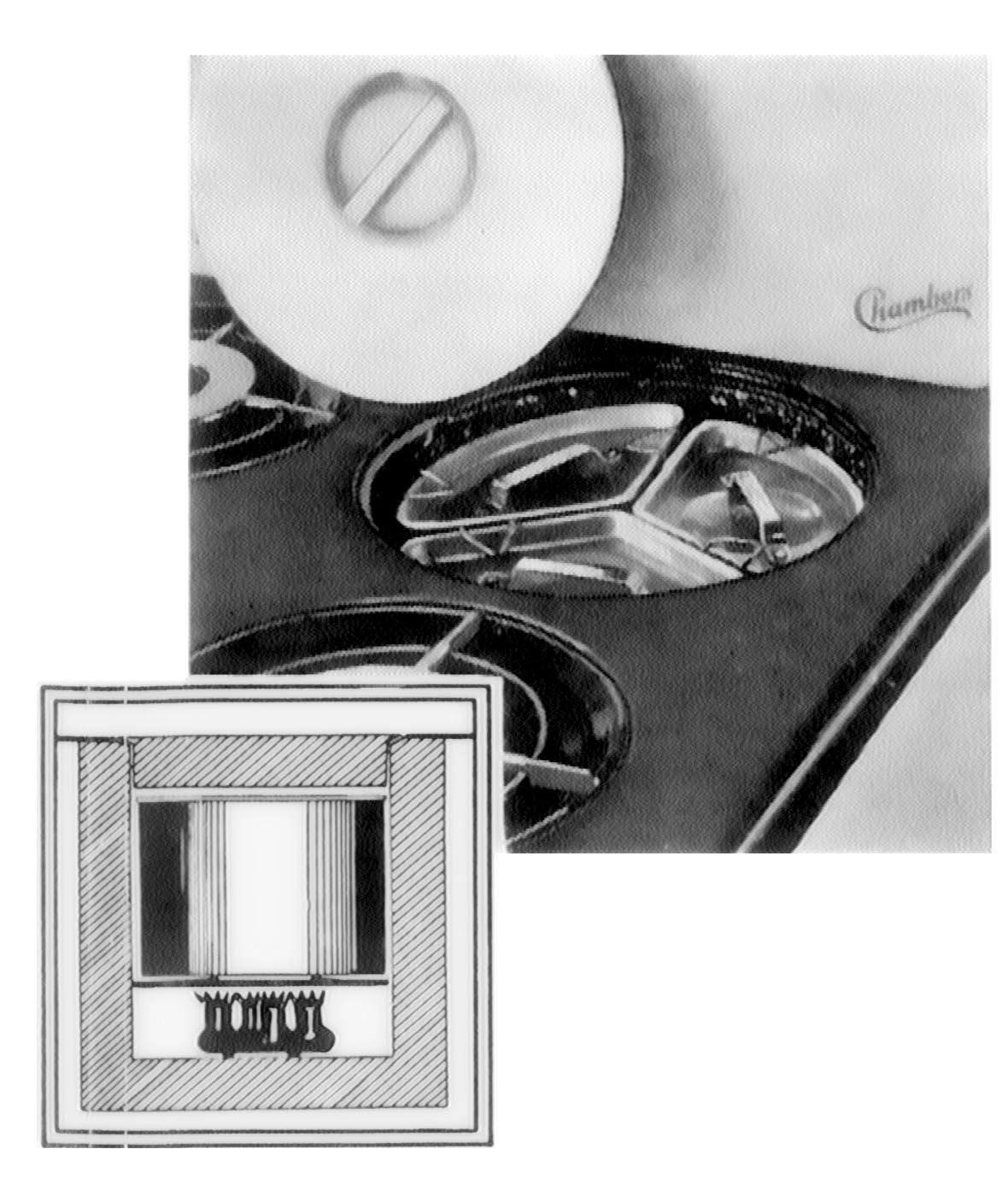 The CHAMBERS also has a patented

"THERMOWELL"

recessed into the top. This exclusive feature of Chambers Ranges is a remarkable gas and labor saver. Like the Chambers oven, it is completely insulated on all sides. Very little gas is consumed during the short gas-burning periods. Foods will cook in the Thermowell in the same length of time required on the top burner of the range, but they need not be removed when done.
Especially where a family is small does this unit become indispensable, as many complete meals of meat, vegetables, and dessert can be prepared in it.
The

Thermowell

is used in c
onjunction with several
different utensils, the most important of which are the
"kettles." These kettles have tight-fitting, lockable lids and an apparatus on the side and lids for lifting them from the Thermowell.
There are four types of these kettles

: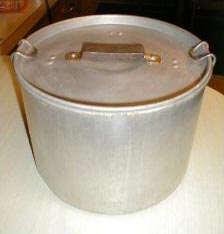 *

The Single -

holds 7 quarts and originally included an insert for cooking one dish in the top while another cooked in the bottom of the pot.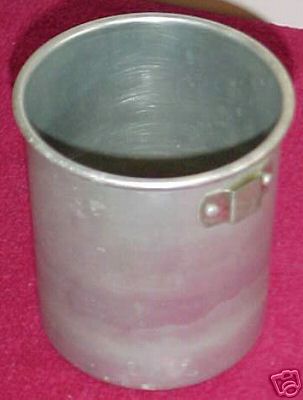 *

The Double Boiler -

this is an insert for Single Kettle with the lid that has clips to accept it.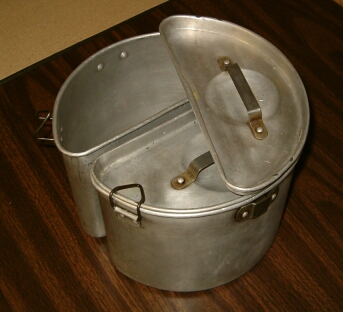 *

The Double

- these are basically a single cut in half, holding 3 quarts each.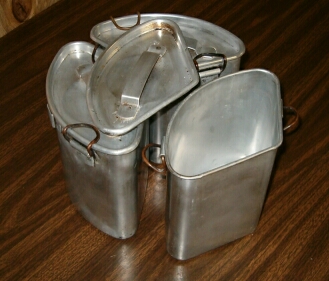 *

The Triple -

these are a single cut into thirds, holding 2 quarts each.

All of these units are getting hard to find, so be glad if yours has some of them. A reproduction of the single is currently available from several suppliers.

The Thermowell for the "C" series also had built for it something called a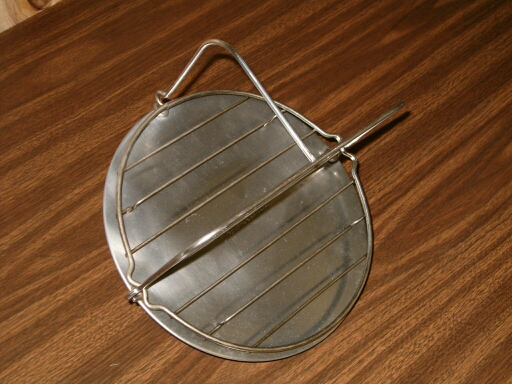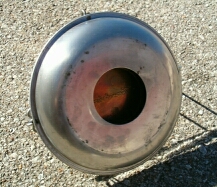 Front View of ThermoBaker Rear View of ThermoBaker

The
"ThermoBaker"

is used in the Thermowell to bake pies, small cakes, biscuits, cornbread, meat dishes, vegetables, etc. There is a recipe sheet for it, too. If you have one, or buy one, be SURE to get the little metal trivett (rack) that goes with it - the Thermobaker doesn't work right without it.
There are several neat things about cooking with the

Thermowell.

For example, even if you are cooking vegetables that will be done in 20 minutes, you can still use the
Thermowell.
You save gas and labor, and, should your meal be delayed, the food will remain hot. Also, less water is required than on the top cooking, and Thermowell cooking is more appetizing and healthful that cooking using ordinary methods. It can also be used as a warming closet. Without it's lid, the

Thermowell

can be used for deep fat frying.


If you are baking only 2 or 3 potatoes, grease them lightly, salt with Kosher salt, lay them in a small pie pan (or the

ThermoBaker

), and place in the
Thermowell
; turn the gas down low and burn it for 20 minutes, then cook on retained heat like you would do in the oven - your potatoes will taste

SO

good when you cook them in a CHAMBERS (either the oven or the
Thermowell
) that you will

NEVER

be satisfied with mere microwave-oven "baked" potatoes again!



THE "IN-A-TOP" BROILER & GRIDDLE

-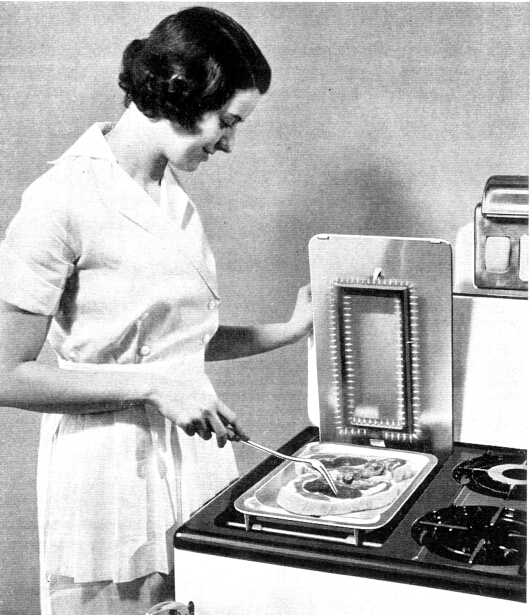 The patented

In-A-Top

Broiler, another exclusive CHAMBERS feature, with the broiling flame directed down on the food, is a remarkably convenient and efficient separate unit. It's Up where a broiler should be -

ON TOP

-

no stooping

! Not only that, but this unit is actually smokeless!
You can use it for steaks and chops, of course, but remember too that broiler toast is delicious. Vegetables, fruits, and many desserts can be broiled temptingly. The broiler can be used to bake meringues on pies, to make open-faced toasted sandwiches, and for any other quick-browning process need you may have. The broiler comes with a SIZZLING PLATTER, on which the foods you have just cooked in the broiler can be taken directly to the table and served piping hot.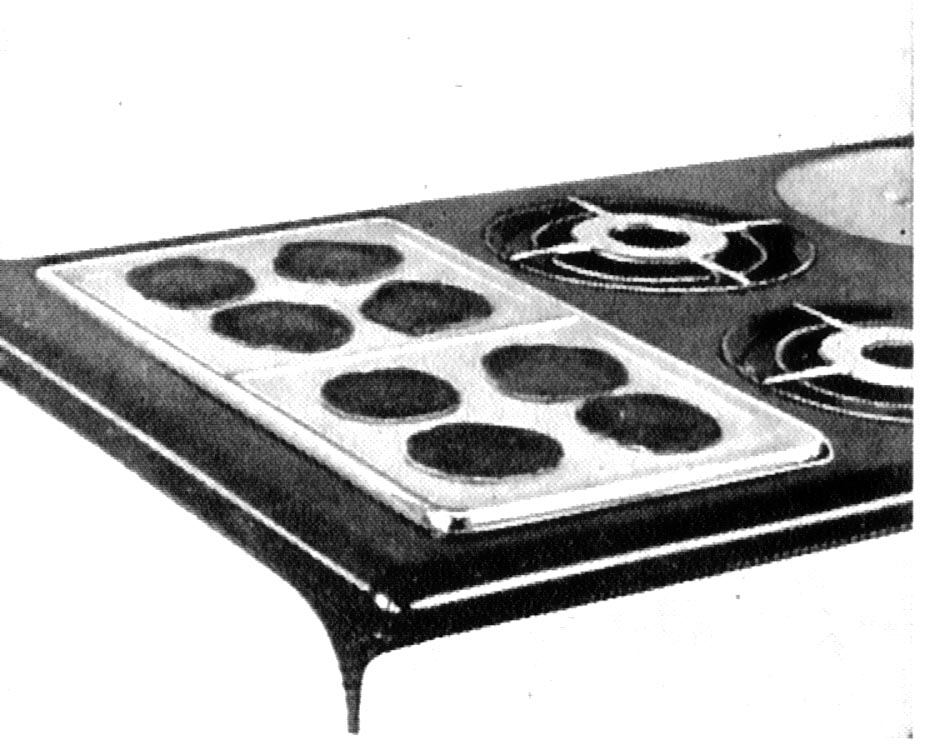 The GRIDDLE is another amazingly useful cooking
feature of the CHAMBERS RANGE. Utilizing the same burner as is used for the broiler, the
griddle can be used to cook griddle cakes, bacon, eggs, hamburgers, French toast, and to grill fruit and vegetables - these are but a few of the many foods that can be cooked deliciously on the Chambers Griddle. AND it can also be used as an extra top burner, too!



THE DAISY BURNER -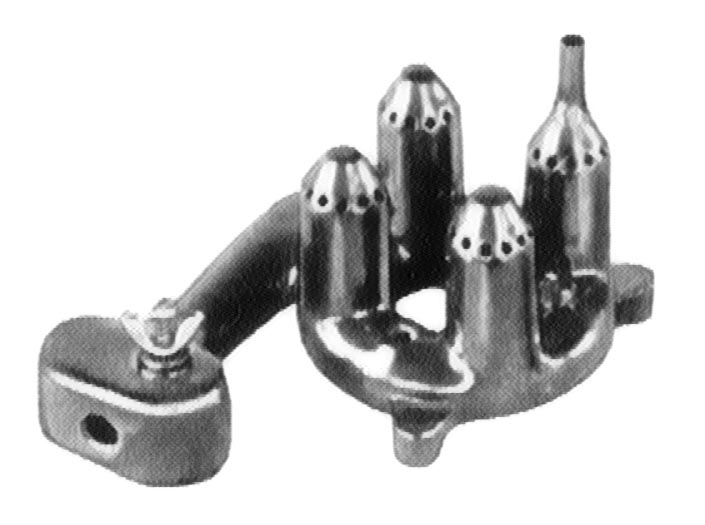 The patented burners used on the CHAMBERS ranges provide remarkably efficient transfer of HEAT from the tiniest simmer flame to a full blue cone.
Burner for a Chambers "B" series
THUMB-LATCH SAFETY GAS HANDLES -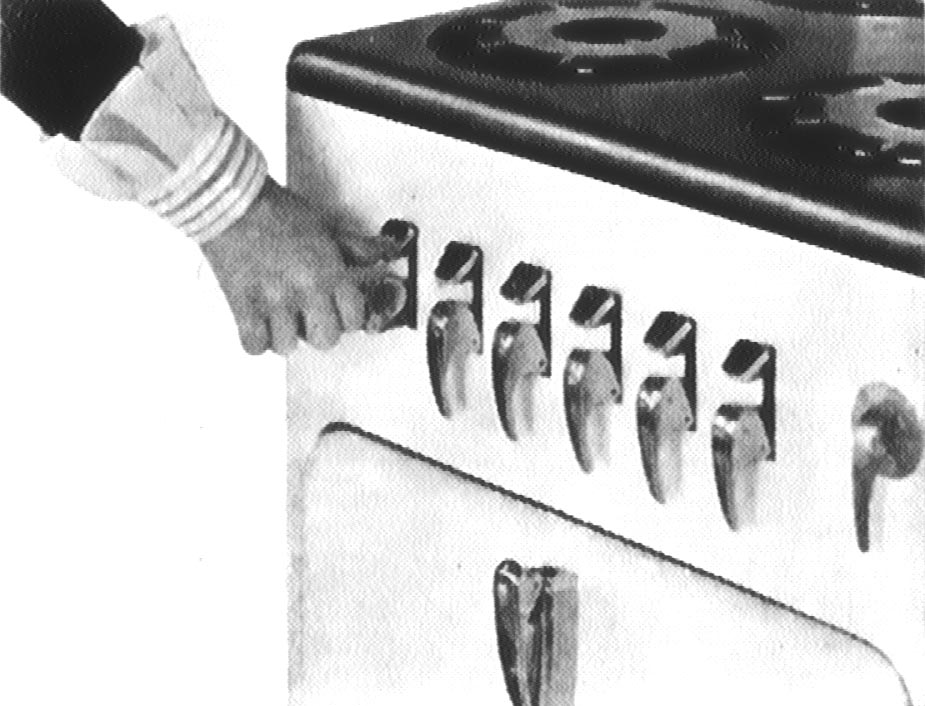 On every CHAMBERS Range, each gas valve has a thumb-latch safety handle. These keep small children from turning on the gas, yet a simple thumb pressure releases the catch. This was a CHAMBERS exclusive, one that didn't appear (in a different form) on "modern" ranges until recently, yet CHAMBERS had them as early as the 1920's!

What I like about the CHAMBERS RANGE, in addition to the classic styling, long-term reliability, and serviceability, is THE WAY IT COOKS. Unless you have used one, you CANNOT believe how much BETTER your food tastes and cooks on a Chambers! Why ANYONE would want to get rid of theirs and buy a "modern" stove is beyond me - there is NOTHING that I have been able to find in today's market that comes close to what a properly operating vintage CHAMBERS is able to do!

- cooks potatoes, prunes and carrots at once, on one small burner in the patented CHAMBERS Thermowell that boils, steams, and stews with the gas turned off - on retained heat!


- cooks beans, meat, and soup - in the Thermowell - found ONLY in CHAMBERS RANGES. Delicious pot roast with vegetables is cooked with only 25 minutes of gas in this remarkably efficient CHAMBERS unit.


- cooks a complete oven meal of meat, vegetables, and dessert for 6 to 8 people in a CHAMBERS RANGE. Only 5 minutes of gas is required for each pound of meat. This service - cooking with the gas turned off - is found ONLY on CHAMBERS RANGES.


And Of Course Every Chambers Has -

*

OVEN HEAT CONTROL

*

CAST-IRON COOKING TOP

* SERVICE CABINET

* MINIATURE CONDIMENT SET

*

AUTOMATIC LIGHTER

for top
burners and Thermowell.

*

BUILT-IN LAMP

for cooking top
illumination.

* CENTRALIZED GAS
VALVE CONTROL

* FOLDING TOP COVER



*

PORCELAIN FINISH

of highest quality.

- from Chambers booklet #936, circa 1940


7 BIG SAVINGS when you cook with the gas turned off on a CHAMBERS RANGE -
1. SAVE TIME - At least 2 extra hours of complete kitchen freedom daily.
2. SAVE GAS - Reduce fuel consumption 1/3 to 1/2.
3. SAVE LABOR - No basting or pot-watching in CHAMBERS cookery.
4. SAVE SHRINKAGE - Experiments have proved CHAMBERS cookery reduces food
shrinkage.
5. SAVE FLAVOR - You don't know how delicious food can be until you've eaten a
CHAMBERS-cooked meal!
6. SAVE FOOD VALUE - Important elements are retained, for foods cook in their own
natural juices. Practically waterless cooking.
7. SAVE MONEY - CHAMBER RANGES pay for themselves in a short time of savings.
Thereafter, they actually pay dividends in continued economies from the kitchen.
- from Chambers booklet #936, circa 1940

PHYSICAL SPECIFICATIONS, B-SERIES (typical):
Width Overall -------------------------------------------------- 37 1/4"
Depth Overall -------------------------------------------------- 30"
(32" if flue collar is used)
Height Overall ------------------------------------------------- 54 3/4"
Approximate Shipping Weight ----------------------------- 460 lbs.
PHYSICAL SPECIFICATIONS, C-SERIES:
DIMENSIONS
of the

MODEL 90-C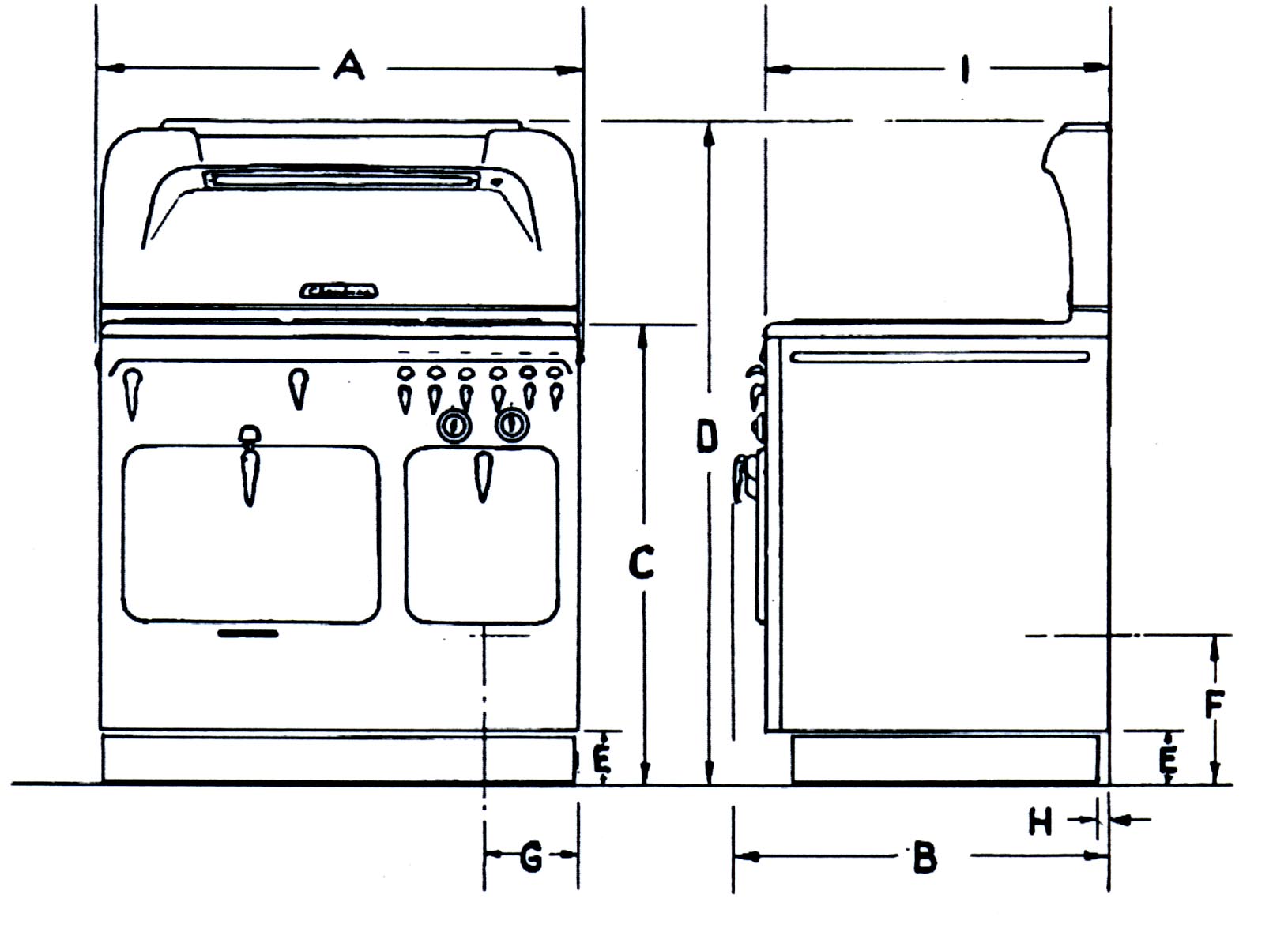 A. Width Overall -------------------------------------------------- 37 5/8"
B. Depth Overall -------------------------------------------------- 29 1/2"
C. Height of Cooking Top --------------------------------------- 36"
D. Height Overall ------------------------------------------------- 51 3/4"
E. Bottom of Front to Floor ------------------------------------ 4 1/4"
F. Height of Manifold Connection ---------------------------- 11 1/2"
G. Manifold Connection to Right End ----------------------- 7 1/2"
H. Clearance for Baseboard ------------------------------------ 1"
I. Depth of Cooking Top ---------------------------------------- 26 1/2"
Approximate Shipping Weight ----------------------------------- 435 lbs.


DIMENSIONS
of the

MODEL 61-C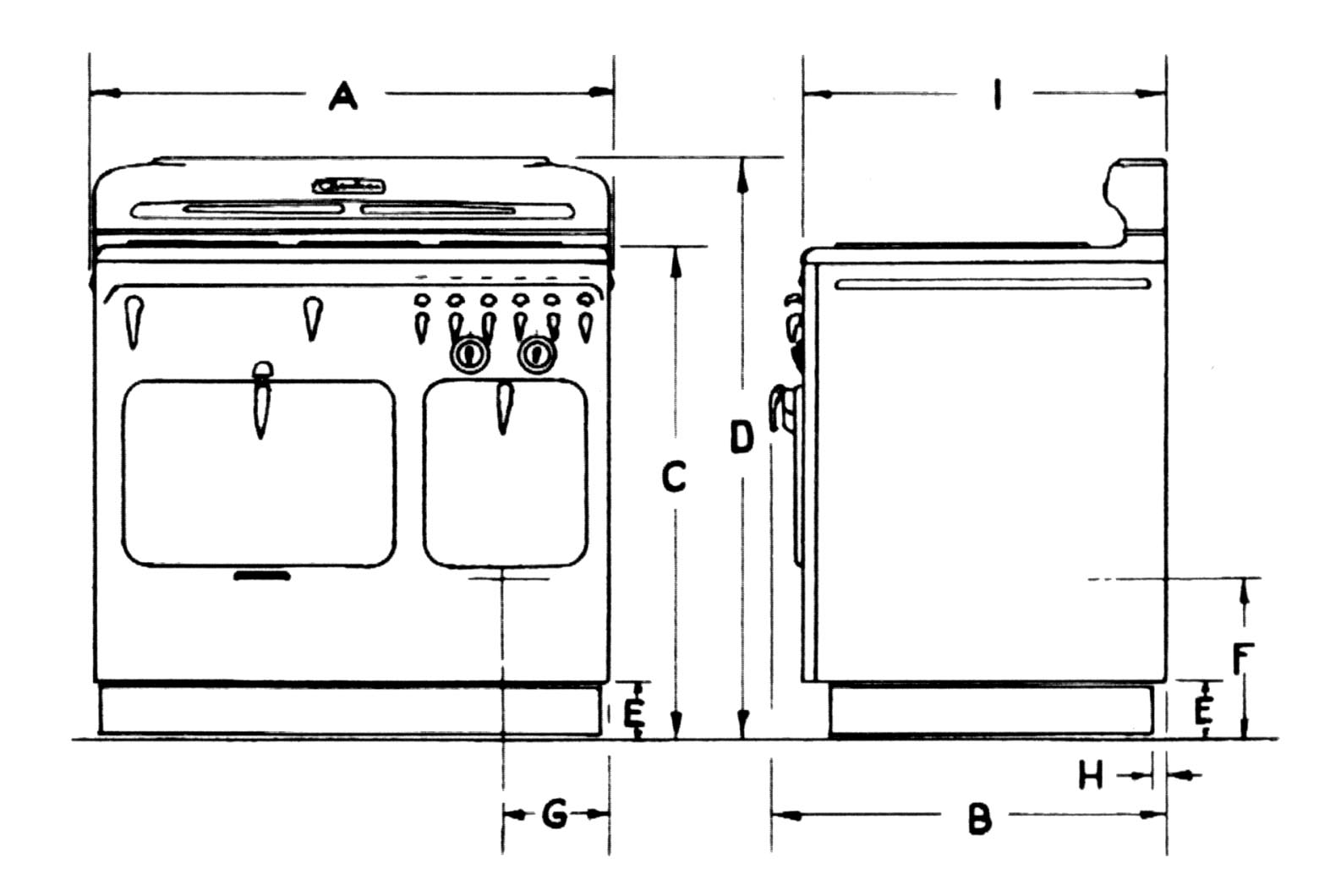 A. Width Overall -------------------------------------------------- 37 5/8"
B. Depth Overall -------------------------------------------------- 29 1/2"
C. Height of Cooking Top --------------------------------------- 36"
D. Height Overall ------------------------------------------------- 42 1/2"
E. Bottom of Front to Floor ------------------------------------ 4 1/4"
F. Height of Manifold Connection ---------------------------- 11 1/2"
G. Manifold Connection to Right End ----------------------- 7 1/2"
H. Clearance for Baseboard ------------------------------------ 1"
I. Depth of Cooking Top ---------------------------------------- 26 1/2"
Approximate Shipping Weight ----------------------------------- 415 lbs.



And You Thought A Chambers Was Just Another Ordinary Range!